If you have read the Vokdathon Intro, please press on '-'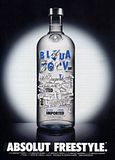 Vision:
Thy see one glass, not yet sloshed!
One glass, one bottle, one blog!
Mission:
No. This is not about drinking Vodka while running. This is about a marathon session of Vodka drinking and hic.. blogging:)
Ground Rules:
Chenthil has come up with a wonderful idea of having a vodka blog meet on the 1st of April 2006 @ Bangalore.
1. Two rules YDYP and YPYC – You Drink You Pay and You Puke You Clean
2. Each Round one blog post along with a photograph of the condition of the blogger 🙂
3. It is arranged on a Saturday night so we can have participants from all over the world commenting on our posts and participating by telephone.
Logistics:
1. A bachelors home, so that the participants can crash after the session
2. A place where Tamil paparazzi dare to enter!
Considering all these factors, Bangalore has been decided as the best venue for Vodkathon. Hic!
Theme Song Courtesy : Smiley
If the ocean were vodka and I were a duck
Id swim to the bottom and never come up
But since it aint vodka and I aint a duck
Just pass me the bottle and shut the @#$% up

Want to attend?
Drop in a mail to prabhu.ferrari@gmail.com
Technorati Tag : Vodkathon
Venue Details

Shiok Restaurant,
CMH Road,
Indira Nagar, Bangalore
Date: 01 April 2006
Time: 8 PM IST.
See you there 🙂