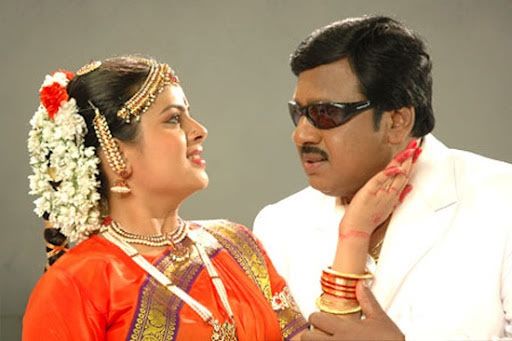 Statutory warning:
This movie has been reviewed by experts who have watched multiple Ramarajan, Krodham Prem, Captain, TR movies in the past. Please do not try to watch this movie without expert guidance, and professional training.
2002 was when Ramarajan's last movie got released. By 2002 blogs were not that popular, and when blogs were popular there were no Ramarajan movies to review. Think of the plight of a Ramarajan fan who has his review ready, but there is no movie to review. But before getting into the movie review, let me answer the question asked by many people right from Baba Ramdev to the local CD guy who asked me 'Enna bossu Ramarajan DVD ellam kekkareenga' on why someone should watch a Ramarajan movie.

2 weeks back I went and watched CSK beat MI in Bangalore. Dhoni's innings was the highlight. I was there in the stadium from 6 PM till 12 PM braving the crowd, hunger and other discomforts. All the pain vanished when I saw Dhoni hit that helicopter shot. At that moment, nothing else mattered. Similarly one has to endure a pathetic story line, expressionless actors, dry comedy track, crazy colors to disturb your eye sight. Why? For that one moment when Ramarajan says 'Inga paaru ma. Padikattula slip aagalam. Padippula slip aaga koodadhu'. When you hear Ramarajan utter that sentence, you forget everything else. I hope it answers the question.
Coming back to Medhai, it is a typical Ramarajan movie with following ingredients
1. No dad. Loving mom. Faithful son.
2. Heroine likes him before he likes her.
3. He is for women, child and welfare of scoeity
4. Villain is bad and he gets corrected by seeing good nature of Ramarajan.
Apart from these are some Ramarajan specials like
1.His dialogue delivery
2.His dance
Ramarajan's dialogue delivery can be understood by someone who has visited a normal hotel.
1. Imagine you are ordering a dosai 'Oru dosai kodunga'. Thats how Ramarajan will talk to his mother. Soft, nice and simple.
2. Imagine the server placing your order .'Master oru sada dosai parcellllllllllllllllll'. Thats how Ramarajan will talk to villain. Loud, strong and firm.
3. Imagine paying for a bill of 20 Rs with a 500 Rs note. '500 Rs ku change irukku la'. Thats how Ramarajan will talk to the heroine. Polite with anticipation and also a little bit of fear.
So this is how Ramarajan talks to different people and you can easily visualize.
Its so easy to dance like Ramarajan. Imagine if an insect falls inside your T Shirt or shirt. The way you will jump to remove the insect from your body is how
Ramarajan dances.
Next when it comes to costumes, Medhai is very unique. For the first 1 hour you wonder if it is a Ramarajan movie only as he just wears white and white, but later he unleashes the entire Asian paints catalogue on his shirt. Actually he can be the brand ambassador for one of these paint companies.
Also in this movie there are lots of subtle messages you get from Ramarajan.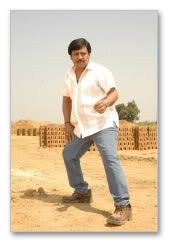 Message: Before you go to gym or do any physical activity, please ensure you do not eat anything.
Illustration: Imagine how it will be to do bench press or any other exercise after you have had pongal + vadai. Thats how Ramarajan looks when he is doing the fight sequence.
Message: When you buy dress for women, you need to be very careful. Sometimes womens dress come with lots of works and if you are not careful the work/jarigai gets stuck in your finger. And later when you wipe your face or forehead, the jarigai gets stuck to your face.
Illustration: Look at Ramarajan's face in song sequences.
Message: When you wish to punish someone, punish yourselves instead.
Illustration: In one scene a student steals 1000 Rs from his class mate. Ramarajan takes the cane and says that in his 10 years experience, he has never used violence against a student. And he asks every single student to hit him with a cane. His logic is that the person who took the 1000 Rs, will not be able to hit Ramarajan due to the guilt factor. And it works.
Message: Ramarajan reads Shakespeare
Illustration: Ramarajan goes and meets someone in TASMAC. When the guy asks where am I, Ramarajan says you are in denmark. See the word play keeping in mind the Hamlet reference of there is something rotten in Denmark.
So these are some messages. Apart from these, there are some famous dialogues in the movie
1. Sandhu bondhu la ellam software company irukku. Neenga padikareengala?
2. Pallikoodam poi pasangalukku paadam solli kodukara vaadhyarukku murungakka sambar panni kodukka koodadhu. Mullangi sambar dhaan panni kodukkanum
3. When his wife cooks murungakka sambar in the weekend and says 'Kadhava saathunga' Ramarajan says 'Kadhava saatha koodadhu. Unnai dhaan saathanum'.
4. Ramarajan's wife is his maama's daughter. Before getting married, the girl visits Ramarajan and falls at the feet of his mom and says 'Naan unga payyana kalyanam panninalum pannalainaalum neenga enakku athai dhaan'. 'Aasirvadham pannunga'.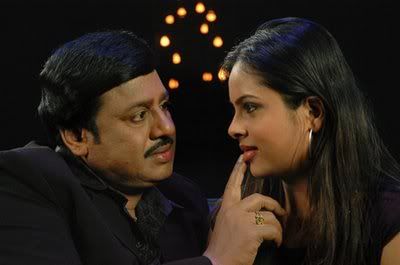 5. Ramarajan is taking tamil class to his students before his first night and gets delayed by few hours. When he asks his wife for milk, she gets him the glass. After taking a sip Ramarajan says that 'Ennadhu paal kodukka sonna thayir thare?' she says 'Ungalukaaga wait panni panni paal kooda thayira maariduchu'.
6. Ranuvame vandhaalum en maanavana onnum seyya mudyiadhu
Am not sure if you are wondering what the movie story line is, but there is nothing much to write about. As a teacher Ramarajan is trying to educate every kid and is against child labour. In the process lots of things happen and movie ends.
At this juncture I would like to talk about the movie heroine. Usually when women become pregnant for the first time the entire world and its grandmother will become a doctor and advice the poor woman on what she should and what she should not. Everytime she listens to an advice, her face will be a mixture of emotions. 'Frustration, polite, diplomatic smile etc'. Ramarajan movie heroine has that expression all through the movie.
So finally to summarize, Medhai is a typical Ramarajan movie but you will need lots of patience and prior experience to watch it.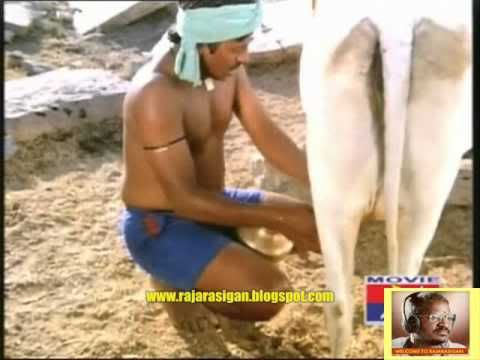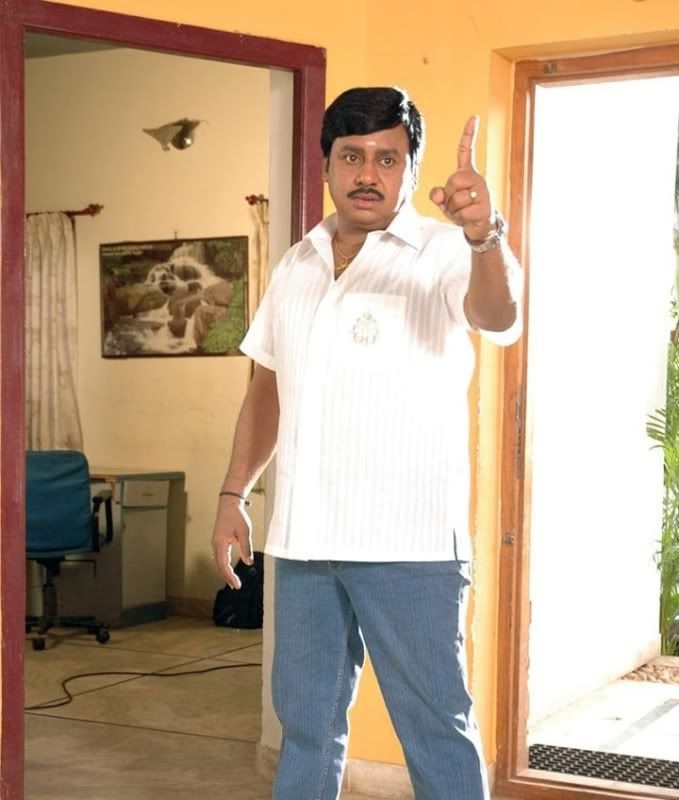 Ramarajan, when he first appeared in enga ooru paatukaaran, wore blue shorts and romanced a cow named shenbagam. 25+ years later he is wearing blue jeans now. Otherwise he is still the same at heart. He is bit rusty due to the huge gap of 10 years. But with more movies in the pumpset sorry pipeline things can only get better.