It is that time of the year, where you get to receive loads of emails with messages on why you should love and all sorts of stuff. Where do such emails originate? What goes behind the scenes? Machi TV caught up with Mr Matter Mahadevan, who is an expert in sending such mails. Matter teaches us how to go about it.

Step 1: Background
Background is important not only for people who apply for bank loans, but also for people who send Valentine cards. Pink is the most preferable color. Choose a pink background. Not a plain pink, but something which is like this. http://www.hellasmultimedia.com/webimages/back-htm/back80.htm
Step 2: Message Header
Only fools write precisely when it comes to forward mails. So start with something that kind of misleads the reader.
'It is the day, when I wish to tell you I am not gay!'
Mark it in bold and change the color to dark blue or so, and increase the font size. And leave lots of gap before and after the message. The reader must scroll down.
Step 3: Animals
The message is supposed to be cute. How to make a message cute? Add pictures of babies or dogs/cats etc. Imagine you holding a rose like this? The recipient will go mad seeing your picture. So it is better to copy paste photo of an animal.
E.g.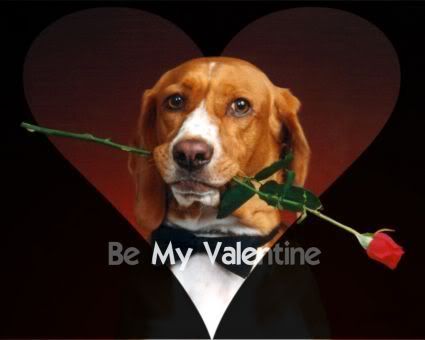 Source: http://www.vistawallpapers.com/image.php?v=./data/media/171/Puppy_Love.jpg
Step 4: Meaningless Message
Add first part of your message. It must have at least five to six lines of something related to love. Not necessary that it must be meaningful.
I want to be your valentine
But all your server did was quarantine
To paint the town red, I went to buy turpentine
But the queue for you is serpentine
Oh my dear Valentine
Mark the lines in bold font, and make it italic
Step 5: Animal Photo
Add some more photos of animals. Last time it was a puppy. This time try some other animal (No crocodiles please.)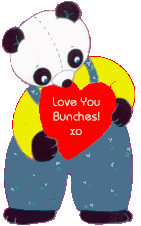 Source : http://www.webweaver.nu/clipart/img/holidays/valentines/panda-heart.gif
Step 6: Meaningless Message
Next part of your meaningless message
My heart beats for you
But do you know, your dad beat me because of you?
Step 7: Kids picture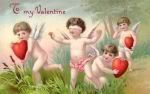 Source: http://www.absolutestockphoto.com/images/userpics/10007/thumb_Absolute_7_7341.jpg
Step 8: Meaningless Message
I wait in front of your apartment
Whiling away my time by reading a book on time management
There are no nails left to bite
Or mails to write
Why is my trouser so tight?
Is it because of my ever expanding waist?
Oh dear I want to hold you tight
To give your sister a fright
Step 9: End with another photo.
You must end this with a kiss. Well, your TFT monitor or Notebook monitor might not like you kissing it. Instead use this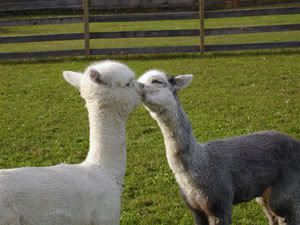 Source: http://www.newyorkstatealpacas.com/images/aspenwood4.jpg
P.S. If you directly forward the mail, no one will read it. So forward it once to your account so that your mail subject looks like Fwd: etc etc. Then forward it to your friends. Only then the reputation of the mail will increase.